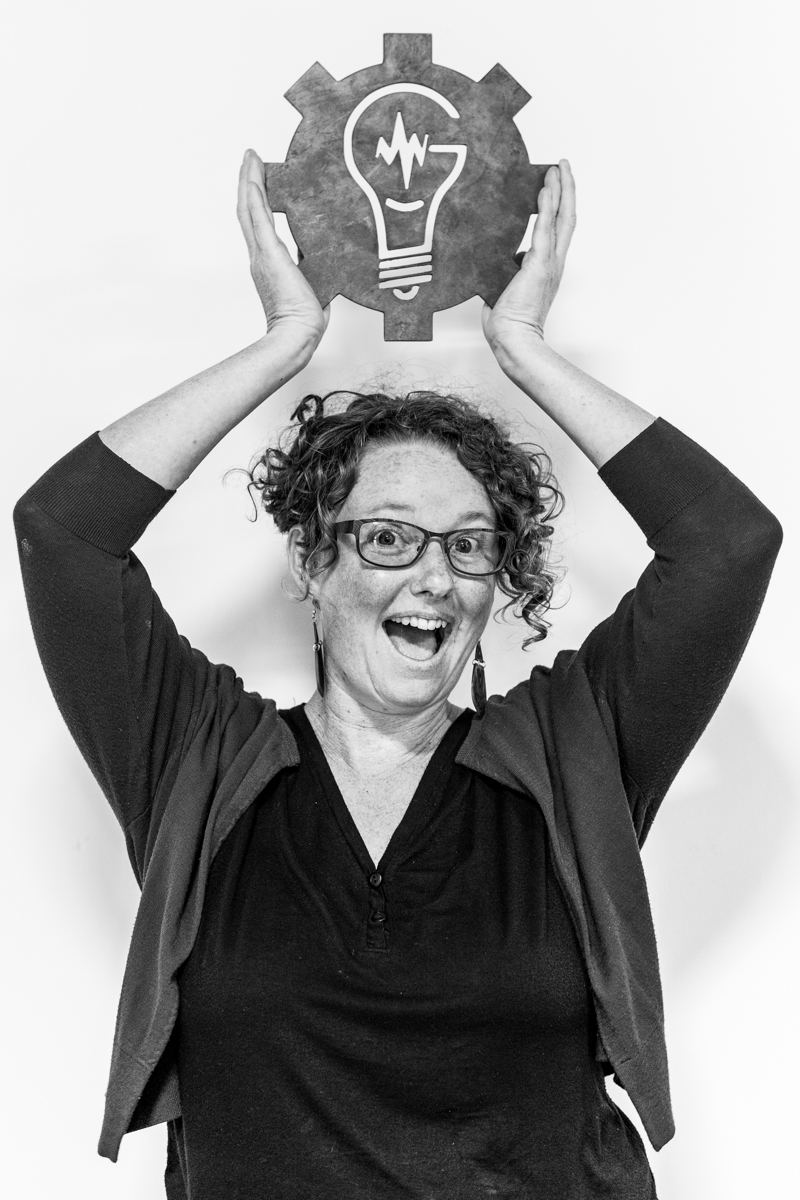 Meg Hammond
Executive Director
Meg has been a leader in community arts and education in Vermont for the last 15 years.
Meg was founder of the Langdon Street Café, the collectively run art and music venue in Montpelier that that Seven Days named "the crown jewel of the Montpelier arts community."
Hammond came to Generator in January 2020 from Goddard College where she was Director of Development. At Goddard she led a successful campaign for a multi-phase renovation of the historic Haybarn Theatre in 2014 and produced the Haybarn Theatre Concert Series featuring world-class performers. Hammond was costume designer and stage manager for the original Vermont productions of Hadestown which went on to Broadway to win 8 Tony awards in 2019. Hammond holds a Bachelor of Arts in Studio Arts. She is here to empower entrepreneurs, artists, and makers of all kinds and continue designing educational opportunities in STEAM pathways.
Elliott Katz
Operations & Facilities Director
Elliott is a sculptor fascinated by material process and illusion. He creates works in a variety of media including wood, metal, concrete, resin, light and liquor. Elliott has exhibited throughout the Northeast including at the BCA Center and Shelburne Farms, Mass MoCA and the Berkshire Botanical Gardens, The Chesterwood Museum, and the Deedee Shattuck Gallery in Westport, Massachusetts. Elliott was most recently an adjunct faculty member and Sculpture Technician at the University of Hartford in the Sculpture Department as well as the Studio Manager and Working Resident at the Seven Below Arts Initiative, an artist-in-residence program jointly founded by Phish frontman, Trey Anastasio and Burlington City Arts. Elliott received a B.A. from Colby College and his M.F.A from the University of Connecticut. For more information about his work please visit www.relliottkatz.com 
Veronica Newton
Senior Director of Programs & Partnerships
Veronica is a lifelong learner with a knack for inquiry. She brings to Generator seventeen years of experience in the education sector with a focus on advancing equity of access to authentic opportunities that are relevant to the learner and serve the broader community. For the past seven years, she worked for the Vermont Agency of Education to provide systems level support for the implementation of Act 77, Flexible Pathways initiative through student-centered policy and program development for statewide dual enrollment, early college, and work-based learning programs. Prior to the Agency, Veronica taught secondary English in Boston and Lawrence, MA where she co-designed multidisciplinary performance tasks with academic and CTE instructors in order to help students make the connection between academic principles and real-world applications.
Veronica grew up in a small town in southern NH, spending summers in coastal Maine. Her inquisitive nature led her to studying abroad, traveling the USA, then eventually, settling in Vermont with her family. Veronica holds an Ed.M. from the Harvard Graduate School of Education and a BA from the University of New Hampshire.
Chantal Raguin
Communications Coordinator
Chantal joined Generator after several years of work on wildlife and climate change projects, for which she wrote about everything from bighorn sheep to native forest restoration. 
Chantal is happy to be a part of the Generator community and truly enjoys sharing the stories of Vermont makers both new and experienced. She hopes her work will help spark local collaborations across crafts, mediums, and more.
Chantal lives in Williston and spends most of her time cooking, climbing, or hiking with her dog, Penny.
Ben Moore
Lead Instructor & Curriculum Specialist
Ben comes to Generator with 14 years' experience as a mathematics teacher. During his career he has focused on creating an engaging environment that puts the students at the heart of the classroom.  Ben is a big believer in learning through mistakes, projects, discussion and having students be the ones to investigate and answer their own questions as a team. During his seven-year career at Spaulding High School in Barre, he helped to create a STEAM program in coordination with the Work Based Learning program that was already in place.  He also taught and developed an engineering course, robotics course and various mathematics classes.
Ben loves a project and being in the out of doors. Whether it's renovating his 1930s colonial, installing solar panels on his camper, baking pies from scratch, or using his 3D printer to make board games, he'll jump at the opportunity to get creative. He is one hoopy frood who really knows where his towel is at!
Ben lives in Barre with his wife and two dogs.
VOLUNTEER SHOP LEADS
Volunteer Shop Leads are rockstars in our specialty workshops. Volunteer Shop Leads work closely with Generator's Operations & Facility Director to maintain tools and equipment, order materials and consumables, and improve workflow and access to their specific workshop. Volunteer Shop Leads also help members with thier projects and promote safe use of our spaces and tools, particularly through regular Open Studio times. Know them, love them, thank them for their service!
Have a question for a Shop Lead?

CLICK HERE and select "Member Rep or Shop Lead Question" to send them a message!
Seamus Hannan
Wood Shop & CNC Router
Seamus Hannan is a Burlington-based woodworker juggling dozens of custom projects at any given time. His personal work often involves combining fine hardwoods and veneers with LED lighting into light boxes. Seamus is one of our wood shop's Volunteer Shop Leads and his studio is here at Generator, so there's no better person to connect with if you're considering joining Generator for access to the wood shop — he's in it all the time! Seamus is also an audio engineer and live music lover. You can check out Seamus's work here.
Juju Lobo
Wood Shop & CNC Router
Juju/Julianny here! Being a part of Generator has been an experience of much growth and learning. From an 'artisanal' background and nature lover, I joined the space with many ideas and very little experience. Fast forward a few years and now I'm now woodshop lead and tool training instructor, and yours truly member rep! Here I was able to network, get trained, exchange ideas, work, collaborate, make friends and much more – I really enjoy this community! If you see me around, and want to say 'hi' or bounce ideas around, don't be shy!
Luna Shen (she/they) is a co-lead for the metal shop. They do visual art and enjoy working with metal to create sculptures. They're available for you if you have any questions about workflows, creative problem-solving, or simply want to chat! They love the metal-shop and want to support you in feeling comfortable in this space. See some of their work here!
We're currently recruiting a Jewelry Shop Lead!
Greg Kuchyt
Metal Shop & CNC Router
Greg spent 14 years working as a Linux jack of all trades for a SUNY campus and the University of Vermont before stumbling into the world of machining and manufacturing. Greg entered the realm of machining on manual machines as a means to produce custom tools for volunteer work in the Vermont rock climbing community. On the way he discovered a whole world of manufacturing technology that has captured his interest ever since. Greg is excited by the idea of applying his experience programming and working on complex IT systems to the modern computer aided manufacturing environment. He works as a developer for a manufacturing applications engineering group that specializes in developing post-processors and digital twins for complex CNC machine tools.
Sam Damphousse
Laser Cutter
Sam is a graphic designer in the outdoor industry, currently working at Anon Optics here in Burlington. Sam is also a maker who enjoys bringing a deep understanding of illustrator to making the leap into digital manufacturing and rapid prototyping. Sam's favorite part about the laser cutter is how quick you can identify a problem and work through multiple iterations to find a solution as well as the ability to make 3d artwork. Current projects include making a catan board, holiday ornaments, and making a set of small custom tool holders for his home shop.
When not around Generator you can find Sam outside Mountain biking or skiing.
TBD
Learning Lab Vinyl Cutter (Adobe CC)
We're currently recruiting a Vinyl Cutter and Learning Lab Shop Lead!
Tommy is a life tourist, constantly exploring new ways of creating and interacting with the world. Professionally he is a software and electronics engineer, but has a variety of interests ranging from drawing and woodworking to fiber crafts and origami. Tommy's curiosity takes him in many different directions and Generator has enabled this passion by giving him access to a wide array of tools allowing him to constantly be pushing his skills. When not in Generator, you may find him rock climbing in the area or rollerblading down by the waterfront.
Fletcher Pratt
Metal Shop
Fletcher Pratt has been welding at Generator since 2018 and has used Generator's metal shop for building bicycle frames.
Sara likes to experiment with small electronics and 3D printing projects. She recently designed and built an amplified crystal radio – with all the resistors and capacitors 3D-printed using a graphene-filled filament. She is currently working on an equatorial platform for a Serrurier truss Dobsonian telescope that she designed and machined over the summer. Sara received a B.S. in Engineering Physics with an emphasis in Materials Science and Nanotechnology Systems from University of Wisconsin Platteville. She is currently employed by GlobalFoundries as a Process Engineer.
We're currently recruiting a Sewing Shop Lead!